Michele Bubacco | The Alphabet
---
Dal 3 Settembre al 1 Novembre 2020
La mostra The Alphabet riflette sulla vita del presente e le sue condizioni di precarietà. Evoca un'esistenza umana frammentaria in cui l'individuo è portato più a comunicare che a vivere e dove l'immagine (la forma) diventa più importante dell'essere (contenuto). Il metabolismo pittorico dell'artista veneziano diventa metafora pittorica del cannibalismo mediatico a cui l'individuo è costretto per non affondare.
La mostra ci mette a confronto con il paradosso delle nostre azioni sequenziali, con l'assurdità dei gesti e delle nuove modalità di comunicazione. L'osceno appare in equilibrio così da sottolineare la caduta, i toni goffi del pensiero.
L'accumulo di frammenti figurativi, immagini e lavorazione pittorica costituiscono un alfabeto dell'assurdo che permette il rapporto giocoso con l'oggetto, attraverso cui affiorano i lati scomodi dell'esistenza.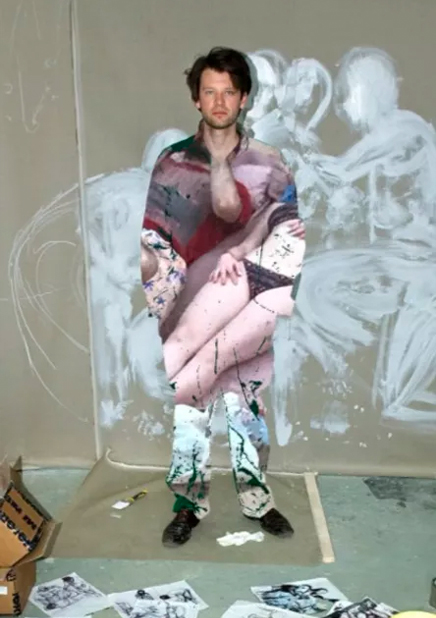 Michele Bubacco
Venezia, 1983
Vive e lavora tra Vienna e Venezia.
Tra le sue recenti mostre personali e collettive: Essere Corpo, Kunsthalle West, Lana-Bolzano, 2019; Brain-Tooling, Forte di Monte Ricco, Pieve di Cadore, 2018; L'intreccio arabo-normanno, Manifesta 12, evento collaterale, Palermo, 2018; Angry Boys, Museum Det Ny Kastet, Thisted, 2018; Mad Cow, Scag Gallery, Vienna, 2017; Manhood, Litvak Contemporary, Tel Aviv, 2017; Fuck-Simile, Galleria Alessandro Casciaro, Bolzano, 2017; Horizon, Litvak Contemporary, Tel Aviv, 2016; Up-Becoming, Fridman Gallery, New York, 2016; Premio Fondazione VAF, Posizioni attuali dell'arte italiana, Chemnitz Museum of Art, Chemnitz, Stadgalerie Kiel, Museum of Art, Kiel, MACRO, Roma, 2016; It´s Not A Finger, Solo Exhibition, Song Song, Vienna, 2019; Selvatico 14, Museo Civico San Rocco, Group Exhibition, Fusignano, 2019; Campo Visivo, Galerie Weihergut, Salzburg, 2019; The Alphabet, Ikona Gallery, Venice, 2020 (presso Ikona Gallery, Michele Bubacco aveva già esposto negli anni 2011, 2013). Dal 2018, partecipa al Simposio di Pittura, Fondazione Lac o Le Mon, San Cesario di Lecce, ideato da Luigi Presicce.