Živa Kraus | U Svijetu Umjetnosti – In the World of Art
---
Dal 12 ottobre al 12 dicembre 2021
MSU – Museum of Contemporary Art Zagreb – Zagabria (Croazia)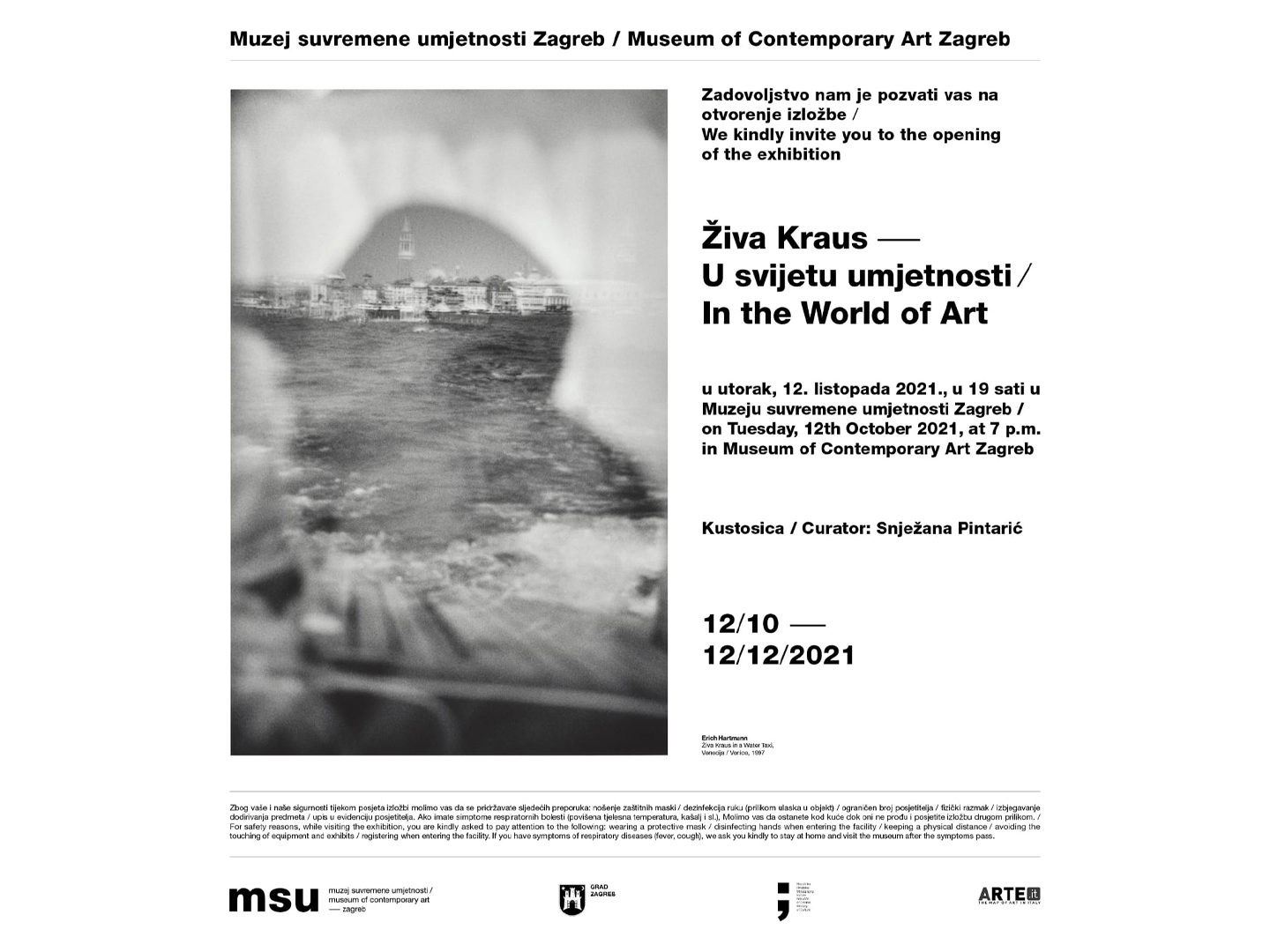 LUOGO: MSU – Museum of Contemporary Art – Zagreb
INDIRIZZO: Avenija Dubrovnik 17
ORARI: APERTURA 12 ottobre ore 19 | Mar – Ven 11 – 19 | Sab – Dom 11 – 18 | Lun chiuso
CURATORI: Snježana Pintarić
ENTI PROMOTORI:
MSU – Museum of Contemporary Art Zagreb
Grad Zagreb – Città di Zagabria
Republic of Croatia Ministry of Culture – Ministero della Cultura
MEDIA PARTNER: ARTE.it
COSTO DEL BIGLIETTO: Intero 30.00 HRK | Ridotto 20.00 HRK
TELEFONO PER INFORMAZIONI: +385 1 60 52 700
E-MAIL INFO: msu@msu.hr
Con la mostra Živa Kraus – Nel mondo dell'arte – In the World of Art, il Museo d'Arte Contemporanea di Zagabria – MSU rende omaggio all'opera artistica della pittrice Živa Kraus, presentando i suoi disegni, pastelli ed oli, nonché al suo lavoro estremamente ricco ed attivo di gallerista, che ha lasciato un significativo segno sulla scena espositiva sia in Croazia sia in Italia.
Per molti anni Živa Kraus ha diretto la Sebastian Gallery in Croazia, nota al tempo per gli elevati livelli fissati per le attività di galleria, e a Venezia per 40 anni ha diretto IKONA Gallery, che continua a promuovere l'arte della fotografia ed espone molti artisti di fama mondiale. Oltre alle opere originali di Živa Kraus, la mostra presenta anche fotografie e lavori di altri autori, nonché cataloghi e manifesti relativi alle mostre.
"Živa Kraus è una persona estremamente interessante, è vivace come il mercurio ed è per questo che il suo nome le si addice perfettamente. È costantemente in movimento, propone nuove idee, incoraggia l'azione. Poiché ogni giorno attraversa frettolosamente numerosi ponti veneziani da un'isola all'altra, Živa si sposta costantemente da un"isola' all'altra del mondo dell'arte, attraverso un intricato mix di grandi momenti e situazioni impegnative, da un'area artistica all'altra, ma sempre lì, al centro del mondo dell'arte, sempre dove l'arte si svolge e dove il mondo dell'arte incontra i suoi consumatori – in gallerie e musei, studi, biennali, mostre…
Quando Živa Kraus ha iniziato la sua carriera, tra la fine degli anni Sessanta e l'inizio degli anni Settanta, così come in molti altri campi dell'attività umana, il mondo dell'arte era dominato dagli uomini. Oggi la situazione sta cambiando: molti artisti stanno perseguendo carriere mondiali e le donne stanno arrivando a posizioni di primo piano in musei, gallerie, case d'asta e come selezionatrici di influenti mostre biennali. Pertanto, possiamo guardare la carriera di Živa Kraus da quella posizione e renderle omaggio, consapevoli di tutte le difficoltà che ha incontrato nel suo lavoro".

Snježana Pintarić